Casio Announces Digital-Analog Combination G-SHOCK Featuring Forged Metal Bezel
Casio announced today the latest addition to the G-SHOCK brand of shock-resistant watches, the GM-110.  With a design inspired by the GA-110 series of globally-popular G-SHOCK digital-analog combination watches, the new GM-110 features a metal bezel and is available in four models. The Casio GA-110 series features digital-analog combination models in big cases. Offered in a range of color variations expanded since the release of the GA-110A/B/F in 2010, the series sets the all-time record for most units shipped of any G-SHOCK watch, as announced in 2019. Following the GM-5600 and GM-6900, two digital models with metal bezels, the new GM-110 is the digital-analog combination model featuring popular GA-110 shape that has been made of metal.
The new GM-110 takes its inspiration from the GA-110 series, with a forged metal bezel. Undergoing about 20 forging processes, as well as cutting and polishing, the bezel is precisely crafted from a highly uneven molding to a back surface shape that determines the precision of its assembly. Followed by forging, cutting and polishing is done and each piece is carefully finished to achieve the complex form of its metal bezel. This gives the model a rugged impression and feeling of toughness.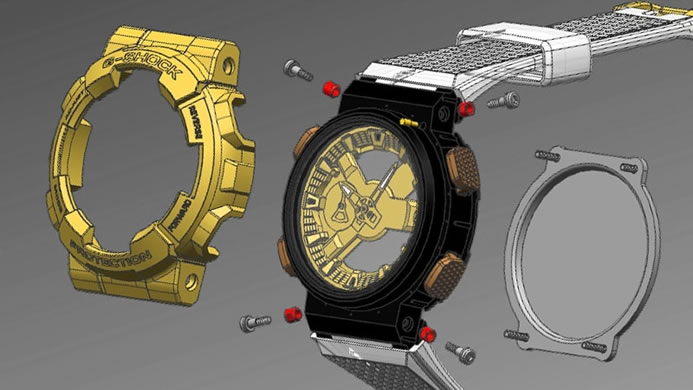 The GM-110 features a silver-colored bezel, and the GM-110G features a gold-colored bezel. These models boast a look of pure coolness that showcase the metals' original textures. The GM-110B features a chic black base tone accented by a multi-color dial in hues including blue, purple and green. The GM-110RB features a bezel treated with rainbow ion-plating, with vivid reds and blues coloring the dial, band and other parts. Their colorful look gives these watches a real sense of presence.
To ensure visibility, GM-110 includes the Super Illuminator feature. In addition, hour and minute hands are treated with luminescent paint, and indices feature an accentuated contrast. The GM-110, delivering advancements in materials and functionality alike, sets a new standard for digital-analog combination watches. Glass fibers are incorporated into the resin band for increased strength. The material's resistance to breakage and bending protects the module from external shock.  The resin band is formed with a lattice design that evokes the image of a machined metal plate to complement the metal bezel.
---
---
---