Casio Announces G-SHOCK 35th Anniversary Commemorative Model: The MAGMA OCEAN Collection
Casio announced today the release of the MAGMA OCEAN collection in the G-SHOCK brand of shock-resistant watches. The MAGMA OCEAN collection includes three commemorative models released in celebration of the 35th anniversary of G-SHOCK. The Casio MAGMA OCEAN collection features the symbolic black G-SHOCK brand color and red as base colors, highlighted with brilliant rose gold and yellow gold color accents to celebrate the 35th anniversary. Just as the colors evoke the magma ocean that covered the planet during its formation, the design looks back to the origins of the G-SHOCK brand, while also declaring Casio's commitment to continuing to create new G-SHOCK value for years to come.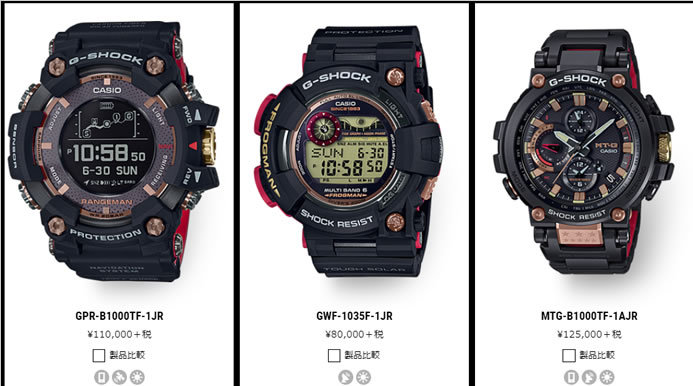 The three base models for the MAGMA OCEAN collection are the MTG-B1000, which leverages the properties of both metal and resin, the RANGEMAN GPR-B1000, which is designed for the ultimate in survival toughness, and the FROGMAN GWF-1000, a diver's watch that continues to evolve.

Casio introduced the first FROGMAN model in 1993. To mark the 25th anniversary of FROGMAN in 2018, the familiar FROGMAN icon featuring a stylized frog is found throughout the GWF-1035F, both obviously and subtly placed. Users will enjoy trying to find all of the FROGMAN icons on the watch. All three models feature a case back engraved with a logo that identifies them as 35th anniversary models and they all come in a commemorative package.
---
---
---