Casio Announces Second Set of Limited Edition EDIFICE Chronographs in Collaboration with Honda Racing
Casio announced today the release of new additions to the EDIFICE line of high-performance metal chronographs based on the brand concept of Speed and Intelligence. The new EQB-1000HRS and EQB-1000HR are the second set of collaboration models with Honda Racing, and limited editions of 900 watches and 2,900 watches, respectively, will be sold worldwide. The collaboration between Honda Racing and EDIFICE, both of which have origins in Japan, was born from their common pursuit of high-tech capabilities. The first such collaboration model was the EQS-800HR in October 2018.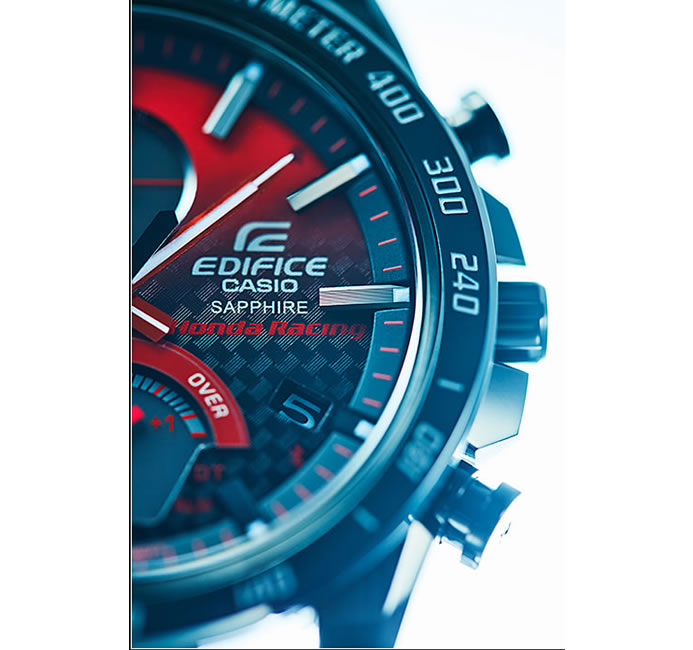 Honda Racing has been in the spotlight as the supplier of power units to the Scuderia Toro Rosso Formula One team since 2018, for which Casio EDIFICE has also been a supporter. The new EQB-1000HRS and EQB-1000HR watches are jointly created with HRD Sakura, a research center that develops technologies for Honda's four-wheel motor sports.
For the new chronograph development, Honda provided a special alloy, titanium aluminide, which is used in its engine valves. The result is a pair of collaboration models built with a material used in Honda power units. For the EQB-1000HRS, which has a red watchband matching Honda's brand color, the special alloy was used for the bezel. The surface of the bezel was also finished with diamond-like carbon (DLC) processing. DLC is also used inside Honda power units, to increase the surface hardness. This finish yields a bezel with outstanding scratch resistance.
Both the new EQB-1000HRS and EQB-1000HR are based on the EQB-1000, a slim-profile chronograph equipped with a Tough Solar power system and smartphone connectivity. Their dials have a graduated black-to-red motif, simulating the moment of combustion in an engine cylinder. The Honda Racing logo appears on the dial and case back of both models and on the watchband of the EQB-1000HRS. These premium models come in special packaging with a card featuring photos of Honda's power unit and the Scuderia Toro Rosso Formula One racing car.
---
---
---