Casio Expands MUDMASTER Series with Innovative Thinner Forged Carbon Models
Casio today launched its latest additions to its G-SHOCK Master of G line-up of shock-resistant timepieces, the MUDMASTER GWG2000. Designed for use in the most extreme conditions, the three new MUDMASTER GWG2000 timepieces are engineered for those who work in extreme environments scattered with rubble, dirt, and debris. The latest models are the thinnest models in the series' history measuring in at 16.1mm, 1.9mm thinner than its predecessor.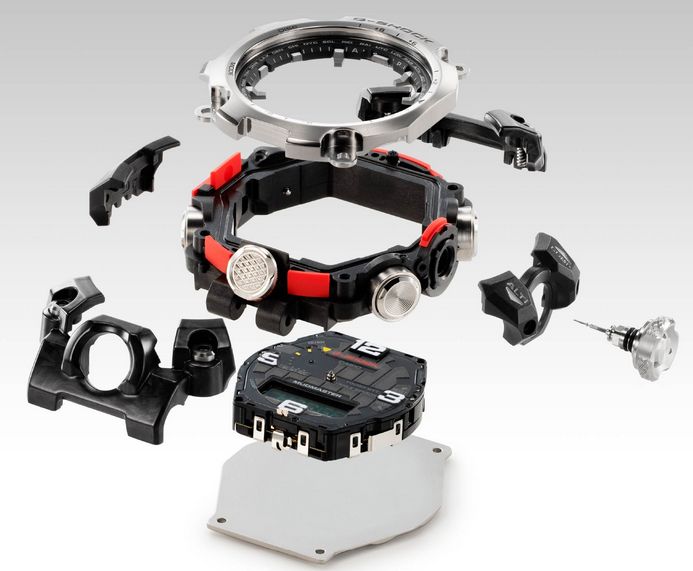 Utilizing a new forged carbon bezel and a carbon core guard structure case, the GWG2000 lineup is designed with increased durability in stronger and lighter cases. The forged carbon bezels are formed by kneading finely crushed carbon fiber into resin and then heat-pressing the resin into a mold. This process makes it possible to produce strong and lightweight parts with complex shapes to reinforce the MUDMASTER's structure.
The new timepieces maintain the MUDMASTER's signature dust and mud-proof structure with a new mud-resistant button structure that combines a stainless-steel button pipe and a silicon buffer to add toughness that will withstand long-term use.
In addition to a textured band that resembles the non-slip grip of heavy machinery and knurled buttons for improved operation, the three new timepieces are offered in unique and appealing colorways that are both practical and powerful. The GWG2000-1A1 sports a black resin band with a stainless-steel bezel, while the GWG2000-1A3 has an olive-green resin band with a stainless-steel bezel, and the GWG2000-1A5 features a khaki-colored resin band with a black stainless-steel bezel.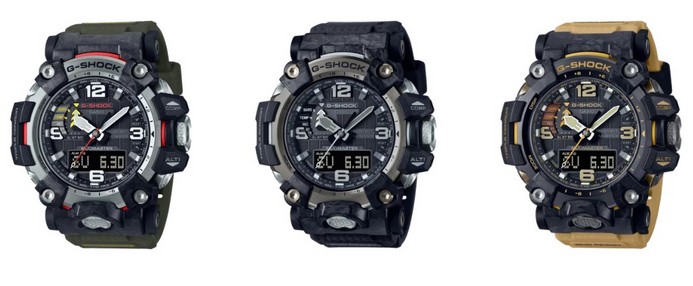 MUDMASTER GWG2000 timepieces are equipped with Tough Solar, Multi-Band 6 atomic timekeeping, and triple sensor technology for measurement of bearing information, barometric pressure and altitude, and temperature. Additional features were incorporated to enhance readability, including large numeral hour markers, arrow-shaped extra-thick hands, double LED light illumination, and a scratch-resistant sapphire crystal.
The new Casio MUDMASTER series, GWG2000, will retail for $800 and be available for purchase in November at select G-SHOCK retailers, the G-SHOCK Soho Store and gshock.com.
---
---
---