Casio Introduces The Latest Addition To Its G-SHOCK Line Of Men's Watches
Casio today introduced the latest addition to its G-SHOCK line of men's watches, the Dial Camouflage Utility Series. Each watch in the Dial Camouflage Utility Series features a bold camouflage design on the dial that matches the color of its band. Continuing the camouflage theme, the neutral colorways in this new collection draw inspiration from natural environments with the models available in a range of sky-blue, desert-colored khaki, cream, dark blue, and black. The new collection brings a unique camouflage design and range of utility-inspired colors to the most popular G-SHOCK models, the DW5600, GA2100, and GA700.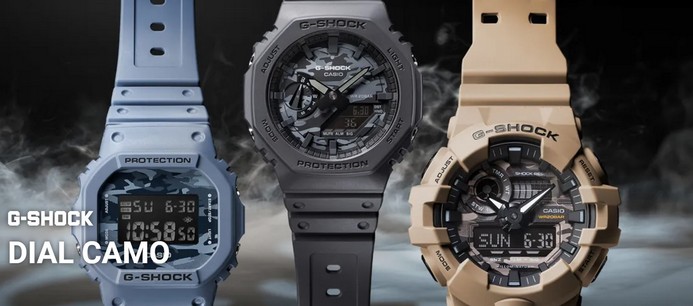 Boasting the classic G-SHOCK DW5600 square shape, the DW5600CA-8 arrives with a neutral, cream-colored band and case while the DW5600CA-2 has a light blue band and case. Sporting the large, dynamic case of the GA700, the GA700CA-2A arrives in an all dark blue design, and the GA700CA-5A comes with a khaki-colored band and case.
Rounding out the new collection is the popular GA2100 shape with the GA2100CA-8A arriving with a sleek, gray band and case. The GA2100CA-8A features a standout octagonal bezel and thin 11.8mm case featuring a Carbon Core Guard structure, as well a dual LED with unique light fadeout feature.
The new models offer function and style with each watch boasting signature G-SHOCK toughness and technology including shock resistance, water resistance, daily alarms, and more. The GA700CA-2A, GA700CA-5A, and GA2100CA-8A all feature Super LED illumination for increased visibility as well. The DW5600CA-2, DW5600CA-8, GA700CA-2A, GA700CA-5A, and GA2100CA-8A will retail for $99 each. BUY HERE.
---
---
---