Casio unveils Dual Dial World Time function G-SHOCK watches for pilots
Casio announced today the latest additions to the G-SHOCK line of shock-resistant watches—three new GA-1100 models featuring Casio's Dual Dial World Time function. The new GA-1100 watches are designed for pilots around the world, and offer an improved world time functionality that is very easy to use. The time in two different cities is simultaneously shown by the main hour and minute hands and an inset dial at the nine o'clock position. When flying, users can quickly check the time in both their departure point and destination, allowing them to calculate the flight time and anticipate their arrival time.


In addition to the world time function, the watches come with a useful compass bearing function for confirming the user's current location and direction to his or her destination, and a handy thermometer function for checking the temperature at the runway and inside the plane. With these functions, users can access all the information they need when flying with just one wristwatch.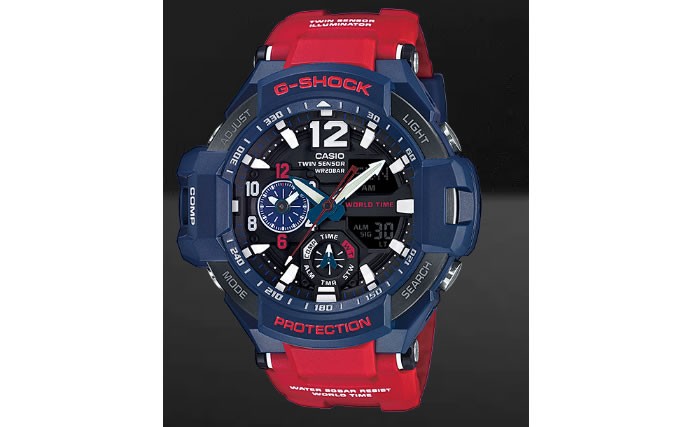 The Casio GA-1100 watches are equipped with a high-luminance LED light so that users can check time and measurements even in a dark place. The GA-1100 watches feature white hands and indicators over a black watch face designed to look like a cockpit gauge. This contrasting color scheme not only accentuates the design, but also makes it easier to quickly check the time when flying. Casio has integrated these functions and design features in a way that makes these new GA-1100 models perfect watches for pilots.
---
---
---