Nixie maker of a wearable and flyable wrist camera wins Intels $500K wearable devices contest
Wearables have become the new modern gadgets, and every company in tech is either making them or designing businesses around them, from Microsoft's new health-focused Microsoft Band smartwatch to the Google Glass wearable eyepiece. Intel showed the finalists from the 500 startups that entered its wearable contest. It gave its $500,000 prize to Nixie, the maker of a wearable — and flyable — wrist camera for rockclimbers and others on the go.


Nixie makes a drone camera that can capture moments so you don't have to. It rests on your wrist like a watch. But when you activate it, it will fly off and take a picture of you when your hands are occupied, like when you are climbing a mountain. Rock climbers are the first target, because they can't easily shoot their athletic prowess in the moment. Nine finalists from around the world competed at the Intel Make It Wearable Challenge, which wrapped up with an event at the W Hotel in San Francisco.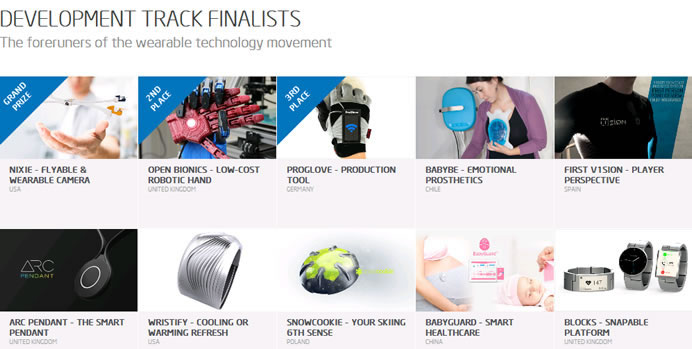 The finalists included Snow Cookie, which measures a skier's performance and helps the skier become better and safer on the slopes. It also lets you compete with friends on the slopes in a gamified experience. A German company dubbed ProGlove (the third-place winner) has created a smart glove that workers can wear on a production line, and it helps improve quality by monitoring a worker's movements. If a mistake is made, it can alert someone in real-time. The company is working with car maker BMW on its first product, which it dubs human-centered production.

---
---
---