Telepathy Japan unveils its first wearable device -Telepathy Jumper
Telepathy Japan today unveiled its first head-mounted display (HMD) -Telepathy Jumper. Telepathy Jumper is built on the basis of computer adjusting to humans not humans adjusting to computers. Telepathy Jumper is a new eyewear type of wearable device that is used while it's hung around the neck. The Telepathy Jumper can be viewed outdoors even on a clear day. This is realized by a display that has a brightness of 5,000cd/m2 or higher. The display is co-developed by Hitachi and Hitachi-LG Data Storage. Its pixel count is 960 x 540 (qHD). Second, the HMD enables to share experiences and skills.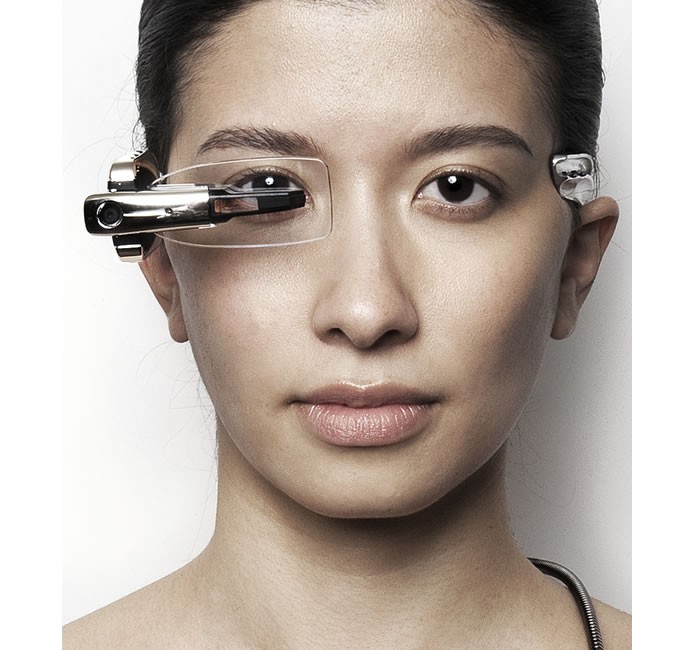 The commercial model comes with two applications software, Eye Connect and Talent Buzz. With the former, it becomes possible to share what the HMD user sees with other users or exchange views. For this function, the HMD is equipped with a 5-Mpixel camera. The latter makes it possible for users to offer knowledge and skills to one another.

User can clip Telepathy Jumper onto his prescription glasses or leave it around his neck to carry it with him with ease. Even under the outdoor direct natural sunlight optical display from Telepathy Jumper will be clear. The device is simple, intuitive and anyone can quickly use it.

The Telepathy Jumper consists of a display unit to be attached to the head and a power unit equipped with a rechargeable battery and control panel. The flexible fitting is a cable for connecting the display unit and power unit. The cable is worn around the neck. The display unit comes with the display, camera, acceleration, geomagnetic and proximity sensors, gyroscope, microphone, etc. and weighs 30g.

The capacity of the rechargeable battery of the power unit is 1,000mAh. The control panel can be detached from the power unit and used as a remote control. Telepathy Japan will exhibit the Telepathy Jumper at 2015 International CES, which will take place from Jan 6 to 9, 2015, in Las Vegas, the US. Telepathy Japan plans to launch Telepathy Jumper into the B-to-B market in March 2015 and consumer market in the summer of 2015. Price will be disclosed during the launch.

---
---
---