The Assembled Curved Super AMOLED display of Samsung Gear Fit2 weighs lighter than a A4 paper sheet!
One of the improvements of the new Samsung Gear Fit2 is its design. The curvature of the Curved Super AMOLED display applied on the Gear Fit2 is 47.65R, while that of the previous model was 57.45R. The R is the measure of how curved a curve really is; a smaller number indicates a bigger curve. By decreasing the curvature on the Gear Fit2, Samsung is able to realize a more compact and slim design for comfortable everyday use. The Curved Super AMOLED display of the Gear Fit2 boasts a screen that is clear and sharp, indoors and out.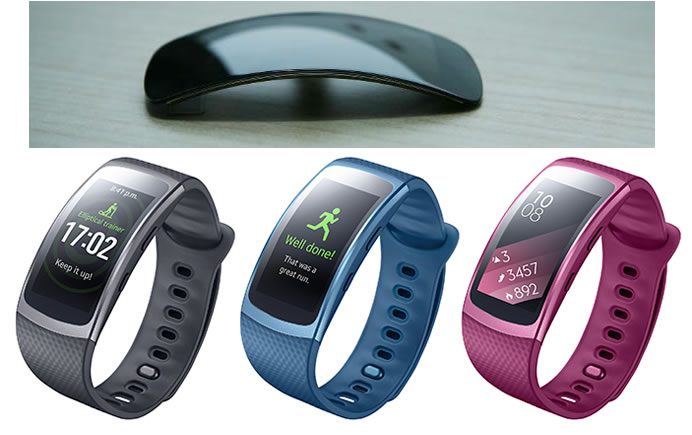 The size of the Curved Super AMOLED display of the Gear Fit2 is reduced to 1.5 inches from the previous 1.8 inches, but the resolution is enhanced to 216 × 432 pixels from 128 × 432 pixels. A clearer image quality was attained by improving the pixels per inch (ppi) —to 311ppi from 245ppi. The maximum luminance of display, a factor that strongly influences the level of display visibility under bright natural light, has been enhanced by 50 percent from 400nit to 600nit. These enhancements were achieved by applying the same organic material used in the latest Samsung flagship smartphones, the Galaxy S7 and S7 edge, to the display of the Gear Fit2.

Flexible AMOLED displays in particular, like the one utilized by the Gear Fit2, can achieve pixels on a polyimide (PI) board made of a plastic material similar to thin cellophane. Thus, they can significantly reduce the weight and thickness of the product compared to ordinary AMOLED displays that use glass boards. The Gear Fit2 Curved Super AMOLED panel itself is only 0.12mm thick. Even when assembled with the device's other components, such as its Polaroid film, driver integrated circuit(IC) and window, it is still only 1.6mm thick and weighs 3.4g—a weight even lighter than a sheet of A4 paper.

---
---
---